Is TradersWay legit or a scam?
TradersWay is not a safe Forex broker because it does not hold a license from any internationally recognized Forex regulatory authority. This means that the broker is suspected of being a fraud company because it was not checked for compliance prior to establishment, was never monitored for safety, and is free to conduct business in any manner it sees fit.
This results in a very high risk trading opportunity, despite its alluring proposal.
Even though government guidelines and compliance with laws mandate financial sector regulation in Dominica, these guidelines and compliance with laws do not yet apply to the Forex business, and are instead limited to the registration of an entity without specific settlement standards that could ensure a safe trading environment for investors.
What is TradersWay?
TW Corp., often known as TradersWay, is an offshore forex broker firm based in Dominica that caters to traders from all over the world through a variety of trading platforms and social trading capabilities.
Company name: TradersWay
Registration/ License: Dominica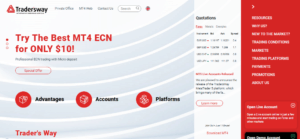 Is TradersWay a scam?
Even though government guidelines and compliance with laws mandate financial sector regulation in Dominica, these guidelines and compliance with laws do not yet apply to the Forex business, and are instead limited to the registration of an entity without specific settlement standards that may ensure a safe trading environment.
Overall Rating
• A quite pleasant trading offering suitable for beginning and professional traders
• Good selection of trading platforms including MT4 and cTrader
• Is not recommended to trade or open account with Traders' Way due to high risks involved
• Only offshore registration with zero regulatory obligations
• Lacks international rules or Forex operation and necessary safety measures
• Poor Customer Service
Unfortunatley, we cannot declare Traders Way a safe broker; rather, it is a high-risk brokerage firm that has failed to demonstrate any of its trustable scores due to the fact that it is not a regulated organization but rather an offshore incorporated corporation.
Read on to have a better grasp of why you should trade with offshore brokerage firms.
Apart from the TradersWay customer service satisfactory propositions, which appear to have been produced with a devoted approach and that appear to meet the demands of their clients, the unregulated environment in which the firm operates does not give any assurances to its investors.
When trading with an offshore or unregulated broker, you will never know what you will get in terms of results in the real world.
The lack of a real ECN environment, effective market execution, and most importantly, the inability to demonstrate that accounts are maintained correctly in accordance with international safety standards, are all risks that traders face.
Furthermore, there is no clear indication of how exactly the client's investment and money will be managed, despite the fact that the website makes mention of stringent safety compliance when it comes to money operations. As a result, you should only rely on word of mouth for information.
Pros

Cons

• Both industry leading trading platforms MT4 and cTrader offered

• Is not licensed by any reputable Forex authority

• Operates only with offshore Dominica registration

• Comply with none of the international rules or Forex operation
TradersWay in the USA
It does not allow traders from the United States (see Forex Brokers Accepting Clients from the United States), despite the fact that you may come across certain statements to the contrary!
In spite of the fact that Dominica has attracted a large number of financial companies and activists to perform and deliver services to international clients, it is possible that TradersWay does not hold a strict, reputable license or that it does not adhere to the operational guidelines necessary to ensure the safety of its clients.
Deposit & Withdrawal
The minimum deposit required to start an account with Traders Way is $10 USD/GBP (you may be interested in reading Alpari Broker's Deposit & Withdrawals information by clicking on the following link). According on the payment method you choose to fill your account, Traders Way charges a fee for each deposit you make.
The withdrawal fees charged by Traders Way vary based on the form of payment used for the transaction. Withdrawal requests are completed within 48 hours on business days, excluding weekends and holidays.
Traders Way accepts deposits and withdrawals through the following payment methods: credit cards, debit cards via Vload, bank wire transfer, bank transfer (Abra), bitcoin, ethereum, litecoin, ripple, USD Coin (USDC), Tether (USDT), TrueUSD (TUSD), Skrill, Neteller, Perfect Money, and FasaPay (FasaPay is a payment processor for Traders Way).
Apps
In addition to the widely used and well-known MetaTrader 4 and MetaTrader 5 platforms, the broker offers both Standard and ECN accounts, which may be utilized to trade a wide range of trading products. Furthermore, its traders may benefit from the QuickDeal feature, which allows for quick and easy one-click trading in MT4 and MT5.
In addition, there is a cTrader platform for ECN trading. Trader's Way cTrader, with the assistance of cTader, gives complete ECN access to the markets for both professional and beginner traders alike.
Conclusion
Of course, it is always the trader's option whether to create a Live or Demo account and engage in trading with Traders' Way or any other offshore regulated organization, putting themselves at a great risk of losing money. As a result, it is strongly suggested to select the finest broker and to give preference to Regulated Brokers who adhere to stringent operating criteria, ensure the security of clients' cash, and effectively manage risks.
Aside from offering competitive trading conditions, traders should always prioritize dependability and sufficient safety. As a result, we advise all traders to open an account only with brokers who have been authorized by reputable regulatory bodies, which you can find by browsing through our list of Regulated Forex Brokers.
Consequently, you should only trade with licensed brokers, such as those in the United Kingdom and Australia, and with reputable forex organizations, such as BDSwiss and BlackBull Markets.