What is Rubix FX?
Its parent firm Gleneagle Securities which is also known as Rubix FX has been in operation in 2009and located in Australia and the Rubix FX was founded in 2014, with the intention to offer a high-quality trading services to its customers.
The most significant strength of the firm is its technology connectivity and strong connections that combine the most competitive pricing via the liquidity providers of multi-banks. Electronic price execution offers FIX API connectivity as well as white label services which are continuously monitored to ensure the most competitive prices that are free of slippage or rejection due to the in Equinix NY4's servers.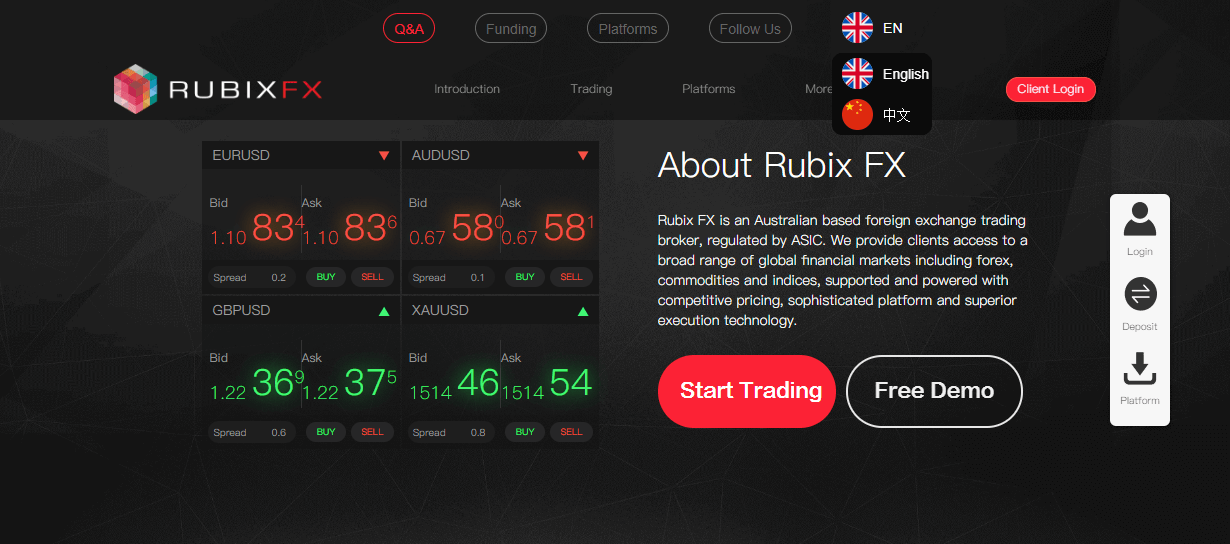 10 Points Summary
| | |
| --- | --- |
| Headquarters | Australia |
| Regulation and License | ASIC |
| Instruments | Forex, Commodity and CFD Index. |
| Platforms | MT4 |
| EUR/USD Spread | 1.4 pip |
| Minimum deposit | 500$ |
| Demo Account | Provided |
| Base currencies | AUD, USD |
| Education | Social trading |
| Customer Support | 24/5 |
Trading Instruments
Rubix FX focused on the most efficient tools and provides over 70 different instruments through market leaders MetaTrader4 and Rubix Prime platforms with access to trade Forex, Commodity and CFD Index.
In contrast to exchange-based markets the huge liquidity and huge number of participants mean that there is no one person who controls the price of a given period and, therefore, the transparency is assured and retail traders can gain access to markets with a minimal amount of capital because the broker offers high leverage.
Thanks to its technological foundation the company is also able to offer an wide range of investment options to corporate or institutional clients. traders can apply for MAM (Multi Account Manager) to trade across multiple accounts at the same time.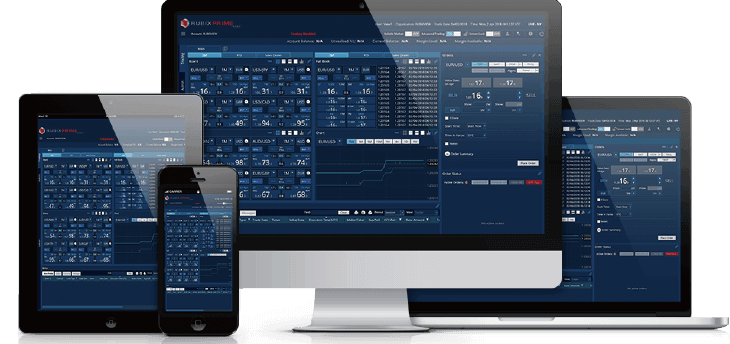 Is Rubix FX safe or is it a fraud?
Rubix FX is a trading name for Gleneagle Securities (Aust) Pty Ltd. It is an founded as an Australian broker, regulated through ASIC and authorized to conduct an investment business in the financial sector under Australian Financial Services License. In reality, ASIC is among the most trusted authorities around the globe as trading in their company permits clients to trust the transparency and integrity of the operations brokers use. Learn more here. about the advantages of trading through ASIC broker.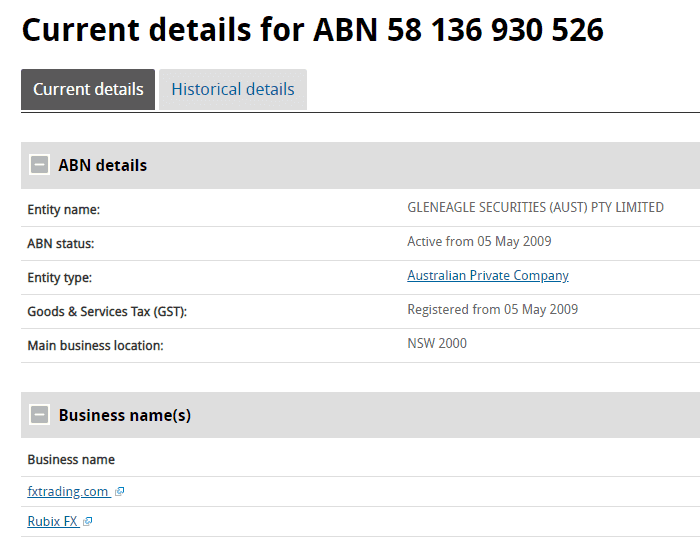 As an registered Australian company , and as required by law The Rubix FX operates that are fully compliant and provides security for investors, secure trading and is transparent in its trading practices throughout the day..
To obtain an ASIC license The broker must adhere to a variety of restrictions which are intended to safeguard traders. It is also constantly monitored for compliance. That's why we suggest using only licensed brokers. We recommend against offshore brokers because they are in fact, affixed with no rules.
Trading Platforms
Most of technological brokers include in their offerings the market leading MetaTrader4 and Rubix FX isn't an exception. However, aside from the fact that MT4 is famous for its superior charts and its ability to work with any design that works, and also by providing access from any device (PC or iOS, mobiles, etc.), there is an option to utilize the core electronic offering by using FIX API that lets you connect with any device.
Rubix Prime has the TrueFX Partner program that allows direct trading using prices from market-making companies or banks that are open to anyone. Rubix Prime is institutional GUI which is integrated into Integral FX Inside trading through real-time rates for currency. accessible for free and provide the historical rates for free.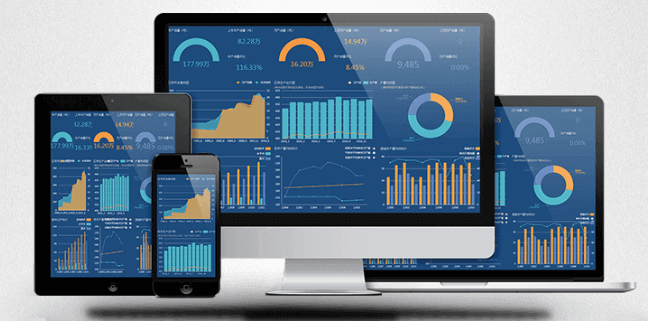 Additionally, the broker permits users to utilize additionally, the Autotrade system via the myFXbook's extension that is the most popular mirroring, or Social trading system that offers a wide range of opportunities for professionals around the globe by charging a small volume of transactions. This is the most simple approach that's the excellent solution for new traders or traders who wish to operate their trading with no interruption.
Account Types
There are three different types of Accounts which are provided by Rubix FX and an account called Rubix Prime account with an completely customized trading solution. The major differences are based on the option of STP execution that only uses spreads and the ECN connection with raw spread and the commission for each trader.
In addition, with the size of your trading increases, you could benefit from lower costs with Alpha Account or access tailored solutions based on your specific financial needs.
Fees
For the cost of trading, Rubix offers a range of flexible spreads dependent on the software you are using and the account type that you choose to use. Check out the below comparison of well-known instruments and the Rubix FX Spread and also compare the fees with another broker that is popular OGFX.
Also, never forget to be aware of the rollover fee or overnight fee as a price that is around -7.3 when you are in short position on Eur/Usd and 1.7 on long positions, that are held for more than one day.
| | |
| --- | --- |
| Asset/ Pair | Rubix FX Spread |
| EUR/USD | 1.4 |
| Crude Oil WTI | 6.4 |
| Gold | 11 |
| BTC/USD | 75 |

Leverage
When you trade using Rubix you can use flexible leverage and this powerful tool could boost the potential for gains quickly because it has the potential to increase your initial balance. However, remember that the right leverage should be set up to the various instruments, because it could increase the risk of loss also.
As an Australian broker, you'll be operating using the highest leverage ratios, such as 1:200, 1;300 and even 1:1400. However, you should check your trading level because different ratios could be applicable based on your personal degree of expertise in trading.
Deposit and Withdrawal Methods
The deposit methods include an array of base currencies acceptable to the broker, as well as the conditions which guarantee funds security. So, all customers have their funds kept in separate accounts at Westpac Banking Corporation, and there are no fees for deposits through Bank Wire Transfers.
However, the transfer to a foreign bank account might result in a bank transfer fee that will be taken out of the amount to be transferred. Furthermore, the funds is transferable via China Union Pay, Neteller and POLi Pay.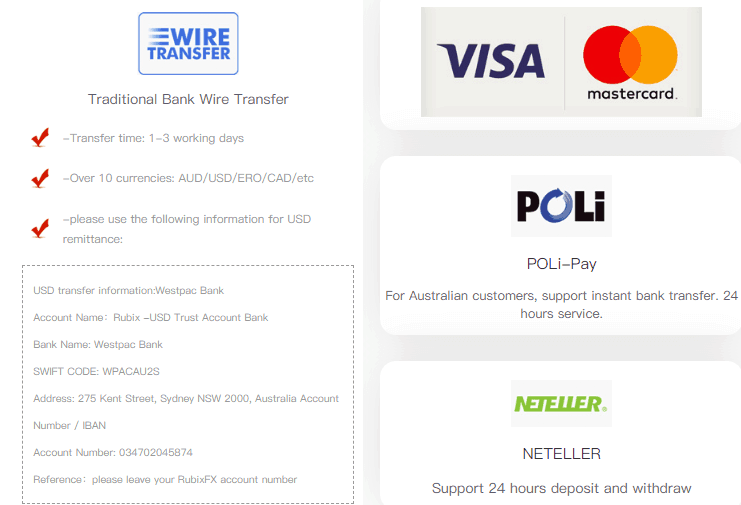 Minimum deposit
For the minimum amount of deposit for the first deposit, the basic STP account on Rubix needs 500$ for the initial deposit, while other accounts offer higher amounts of initial deposits.
Conclusion
In accordance with the Australian ASIC authority, the Rubix FX platform is an outstanding technology solution as well as advancements in Forex trading market,which is conducted in a secure manner with the regulatory limitations.
Like the majority of Australian brokerages, Rubix chose the path built on the most significant today features, including technological base, speedy connection, improved competitive pricing and top software. The traders from all strategies are welcome regardless of their strategy, and even with the possibility for the social market through market-leading software.
The only thing that is missing element is educational and analytical analysis which the company chose not to provide, yet, there's plenty of information on the market, and it's not any major loss as the most important thing - a secure and complete trading environment inside the Rubix FX is at an extremely high degree.