What exactly is FXFlat?
FXFlat is an German independently-owned online brokerage, which has been operating in the market since 1997 and has received many rewards for its trading terms and variety of services. The product range specifically focuses on the markets of Futures, CFDs and Forextrading as FXFlat gives its customers the latest technology and unparalleled customer service. All of it is protected by law.
For the duration of operation FXFlat continuously expands its services and is creating a broad portfolio in addition to the importance of providing quality assistance, which includes the latest education and advanced training via webinars or seminars.
As part of FXFlat its ethos that supports the development and expanding its CFD market within Germany through its membership of CFD Verband e.V., in order to encourage transparency and protect investors. Furthermore, FXFlat has an active part in social responsibility too as it supports various hospitals, institutions of society.
FXFlat Pros and Cons
FXFlat is a trusted trading broker, offering a an extensive range of trading instruments Qiliaty support, and high-end education. The fees are affordable and the options for platforms are wide.
On the other hand the instruments are limited only to CFDs and Forex and there isn't 24/7 assistance.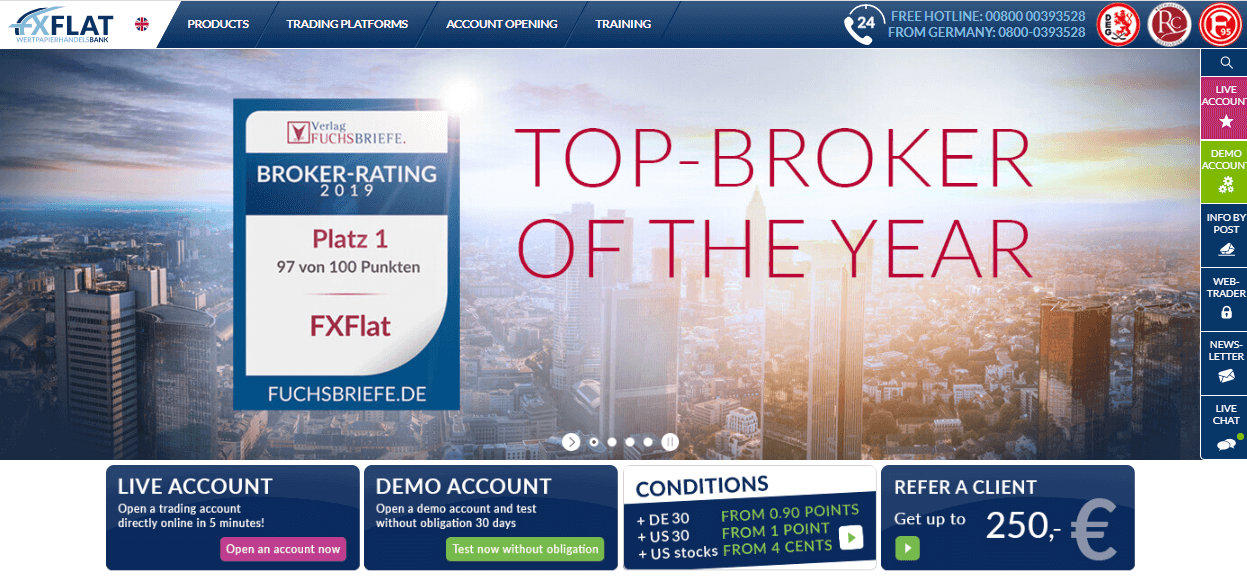 10 Points Summary
| | |
| --- | --- |
| Headquarters | Germany |
| Regulation | BaFIN |
| Instruments | CFDs, Futures and Forex |
| Platforms | MT4, MT5, AgenaTrader |
| Minimum deposit | 200 US$ |
| Spread EUR/USD | 0.7 pip |
| Base currencies | USD GBP, EUR, USD |
| Demo Account | Available |
| Education | Advanced training is available via webinars, or seminars |
| Customer Support | 24/5 |
Awards
For the many years it has been in operation, FXFlat has received highly positive reviews and respect from the traders and both they work with and is also awarded numerous industry awards.

Is FXFlat secure or is it a scam?
Yes, FXFlat is not a fraud and is a reliable broker because of the regulations.
FXFlat being a trading brand owned by FXFlat Wertpapierhandelsbank GmbH established under German laws, also acting as a large Introducing Broker and operates as a securities trading bank. Its headquarters are located in Ratingen close to Dusseldorf, FXFlat is an authorized and fully regulated broker by the industry-leading BaFin.
BaFin is an German authority that provides honesty as well as transparency into the financial industry The conditions and rules are also in line to European ESMA as well as MiFID sets of regulations.

It is evident that the regulatory obligations that bring you, as a trader, it is clear that the company is legitimate and constantly controlled and clear with regards to investing or trading services it offers. In simple terms, BaFIN ensures clients of FXFlat conditions, the way they manage traders and trades and also protects investors regardless of the situation.
There are a variety of guarantees that apply to processing money and your account, so long as you establish the account through FXFlat. BaFin's regulatory requirements also means that your account is covered through FXFlat, the German insurance company and brokers are subject to strict regulations of deposit protection as well as full segregation of the deposits from funds of the company.
Leverage
Leveraged trading lets you invest in both falling and rising markets and increase your market exposure compared to the initial balance.
FXFlat is an European authorized broker, but it offers lower ratios for retail traders, as leverage is reduced to 1:20 in the case of major currencies. It is 1:20 in minor ones, and 1:10 in the case of commodities.
You can also participate in a free course with the qualified speakers FXFlat offers in order to know how to make use of leverage in the most effective way.
But, a professional offer includes specific conditions and greater ratios, but is only for professionals who have verified their qualification.
Types of accounts
FXFlat does not provide various types of accounts and has made its offer into one account that gives you accessibility to every instrument as well as the management of your account. The only distinction is made in the currency used as the foundation. It is either a DE account that is accessible via the MT4 platform, or the one of the GB accounts.
Money managers could also apply for a specific account known as a corporate account with customized solutions with MAM, or the PAMM basis.

Fees
FXFlat terms of trade along with FXFlat spread which is a trade cost that is which is a part of your transaction mostly incorporated into spreads or commissions as specified by the instruments. To understand the full structure of fees, think about fees such as funding fees or inactivity. Refer to the fees table below.
| Fees | FxFlat Fees | ACY Capital Fees | Skilling Costs |
| --- | --- | --- | --- |
| Deposit Fee | No | No | No |
| Fee for Withdrawal | No | No | No |
| Fee for Inactivity | Yes | Yes | Yes |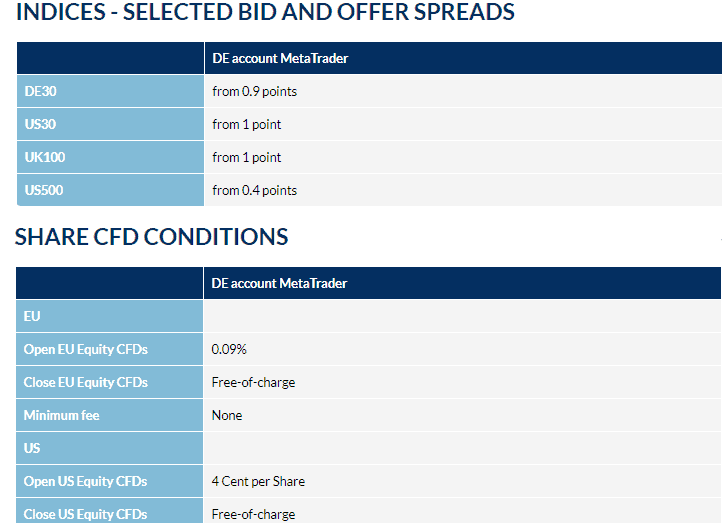 Spreads
For an example, look at the image below and look at some FXFlat spreads or other conditions, when making trades in Equity as well as Share CFDs. As we have discovered, FXFlat offers quite competitive rates with an very low spread for Bitcoin of 35pipsand the majority of brokers provide approximately 50pips for the exact instrument. You can also look at FxFlat charges to another well-known brokerage Fondex.
| Asset | FxFlat Spread | ACY Capital Fees | Skilling Costs |
| --- | --- | --- | --- |
| Spread EUR/USD | 0.7 pip | 1 pip | 1 pip |
| Gold Spread | 0.24 | 0.025$ | 7 |
| Bitcoin Spread | 35 | 40 | 59 |

Methods to Deposit and Withdraw
The final point in the final section of our FXFlat Review is how to transfer funds to an account for trading. FXFlat accepts the most popular methods, including Credit Card payments Bank Transfers, PayPal, Skrill, Neteller and iDEAL.
FXFlat minimum deposit
The initial FXFlat minimal deposit amount is 200 EUR and subsequent payment will be only 50 EUR as the transfer amount.
FXFlat minimum deposit as compared to other brokers
| | | |
| --- | --- | --- |
| | FXFlat | The majority of other brokers |
| Minimum Deposit | $250 | $500 |
FXFlat withdrawal
FXFlat provides withdrawals and deposits are free of charges, and you can choose from numerous withdrawal options like Paypal withdraw. However, you must inquire with customer support and your payment provider if there are charges related to international laws or conditions that could result in costs to your account.
Trading Platforms
FxFlat Review technical point is about trading platforms and the software itself , which you'll be using to make orders. In this particular area, FXFlat made it a excellent choice among powerful tools like MetaTrader4 or MetaTrader5, StereoTrader or AgenaTrader.
Therefore, you can decide to use industry-standard MT4 and its latest version MT5 or continue to use AgenaTrader which is known for its strong automated trading capabilities as well as market scanners.
StereoTrader as an efficient tool to automate trading with MetaTraderis an excellent feature, even if you're working with MT technological solution StereoTrader can take it to the next stage.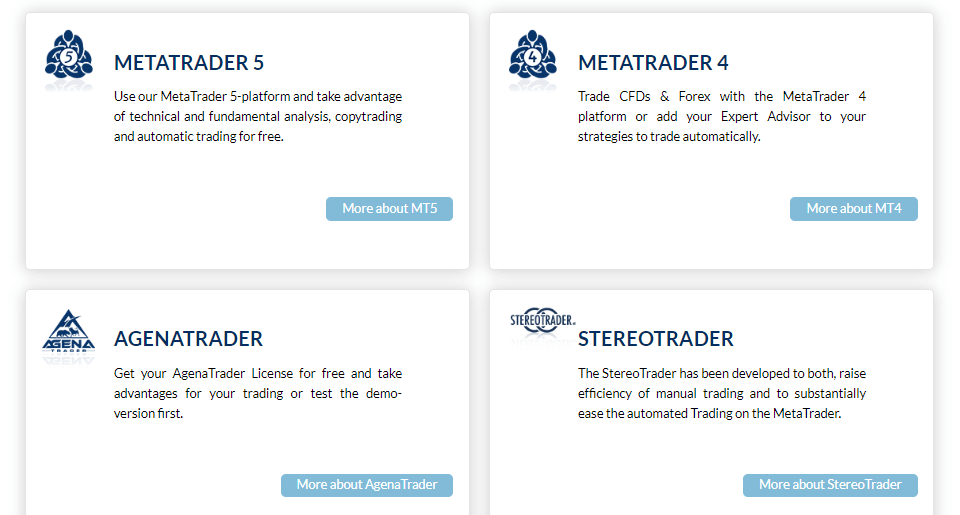 Furthermore, FXFlat went further and integrate devices with free extensions which enhance the capabilities to complement your needs in a more efficient method. Of of course, all platforms available with different versions are compatible with either MAC, PC or via mobile applications to ensure you are in touch at all times.
In the end, FXFlat education materials are strongly recommended for your consideration as knowledge is essential for every type of trader. FXFlat can assist you in this regard as well.
Conclusion
Overall FXFLat Reviews and brokers trading options are an excellent choice because of its long-standing time of operation as well as the conditions FxFlat provides. If you decide to pick FXFlat to be your preferred broker it will provide not just low-cost transactions but also a proven technology for trading, high-quality education and total transparency through every step of the processes. With our though this is a combination that's worthy of professional or beginning traders.